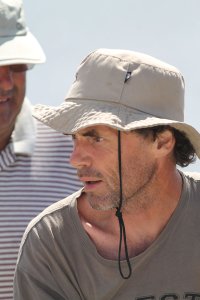 If you decide to book your birdwatching tour with Gerbybirding, your guide will be Gerbrand Michielsen. Born in Holland, Gerby left to Portugal in 1987 and after 4 years in Portugal mainland, he settled in the Azores islands.
During all his life he has dedicated himself to explore nature, during his childhood, in the Dutch forests, looking for animals and in the rivers always trying to catch a fish, and later in his early twenties, when started working along with nature while growing his own food according to organic farming principles.
Nowadays, Gerby mainly looks for birds in the Azorean islands. He's also a very "handy man" that makes with his own hands everything that he sets on his mind, as building wooden houses, transforming an abandoned forest into a lovely vegetable garden, renovating several old traditional stone houses into beautiful and comfortable homes.
In 2000 he was invited by the local government to set up a walking trail network on the 9 Azorean islands. It was during these years that he had the privilege to meet Staffan Rodebrand, an experienced Swedish birdwatcher who helped him in the path of Birdwatching.
Soon became an affectionate birdwatcher searching for rarities every time he could, participating actively on international forums, publishing pictures in different international magazines such as Birding World and Dutch Birding, and also being part of the team of Birding Azores. He had built together with a friend, using their own hands, the first bird hide of the Azores, locaded close to Lagoa Branca, in Flores Island. He its also co-author of the first Azorean Birdwatching guide, together with the Azorean Ornithologist Pedro Rodrigues.
In 2011 he decided to dedicate himself professionally to birdwatching and funded his own birdwatching company, the first in the Azores dedicated uniquely to birdwatching. Growing slow but steady, this experience is enriching his life, and it is with great pleasure that he shares with people from all around the world the wonders of the Azores and the discover of new birds every year.